I keep thinking I'll get back to posting weekly deals, but our schedule isn't quite allowing that yet. I thought I'd do it soon, but knowing that the baby will be here in 6 weeks or less, I'm trying to be realistic about what my priorities are. =)
I thought in the meantime I would mention
Savings Angel
. For anyone local, you may have heard Josh Eldridge from Savings Angel on 99.3 WJQ, on Tuesday mornings giving the "3 best deals" of the week. They've got a really cool website going where they lay everything out for you - the weekly sales, coupons that apply (as well as where to get them - which insert or website to print them from), and a supportive forum, videos, and answers to many questions you might have. I think it can be a great resource to beginners especially to see everything laid out simply and coupons easily matched up to make the most of the deals
If you want to check it out, they're offering a "30-day Money back guarantee" to start. It's normally $20/month and it's easily possible to save enough to make your membership well worth it! But, you have a full month to use it and see for yourself risk-free.
They also have an affiliate program which offers you $5/month for every one of your friends that sign up through you (my number is 1892 if you'd like to
sign up through me
) - with no limit! So, you can get your membership for free, plus more!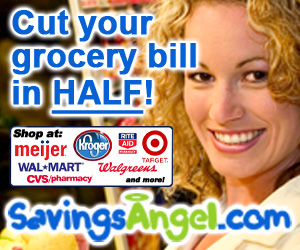 They're always adding more stores, but currently are offering shopping lists for:
Albertson's
Basha's
Cub Foods
CVS Pharmacy
D&W
Dahl's
Dierberg's
Family Fare
Fareway
Fry's
Glen's
Harding's
Hyvee
Kroger
Meijer
Plumb's
Publix
Rainbow
Rite-Aid
Safeway
Schnuck's
Shop 'n Save
Snyder's
Target/Super Target
VG's grocery
Walgreens
Wal-Mart