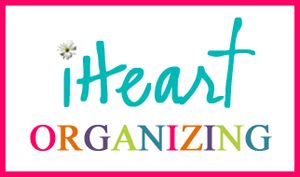 *I'm excited to be starting a regular post here on the blog called "Friday Feature" where I feature something awesome. It may be a fellow blogger I admire, like today, or a stand out craft or idea that I come across. Maybe a recipe or a great tutorial. Let me know if you have anything specific you'd like to see as a feature!
If you already follow and love
IHeart Organizing
, you know how fantastic Jen's blog is! And if you are not aware of
IHeart Organizing
- you need to be! It's one of my favorite blogs and I really do heart it! You can (and I sometimes do) get lost for hours there!
She has the most beautiful and frugal ideas for organizing and decorating your home - some of my favorites are her awesome
playroom
, making the most out of a
tiny office space
, her
gorgeous
master bedroom
, this sweet
tray makeover
, monthly
organizing challenges
......and maybe my favorite - this beautiful
jewelry organizer
(I found a
wonderful
deal on a frame at JoAnn's and can't wait to make my own! I'll post it when I do).......oh I could go on and on! She also offers beautiful printables to help you get organized - some for free! Her home is so beautiful and organized and inspires me to use some of her tips and tricks to whip my house into shape!
Jen recently featured a readers
recipe binder that I love
! I had dreamed up almost the exact same thing and then came across this post that is encouraging me to actually do it! I think it will help me in the kitchen so tremendously when I'm trying to plan meals for the fam. The
menu board
we made is already helping saving time and money in our meal planning, but having my recipes organized will be so great - saving my sanity as well! ;)
When you check Jen's fantastic site out, notice that she's currently offering a Silhouette giveaway (until May 23rd, 9pm CT)! Hop over to her
site
and enter for a chance to win!