(Emma giving Lucas a "hug" before leaving for the hospital)
When I was expecting our youngest son, Lucas
(who unbelievably is already turning 1 in three days!)
, I realized that I had no place to put his clothes. Now being the thrifty girl I am, you know I wasn't about to run out to a furniture store and buy one. ;) So, I started looking for one. I scoured thrift stores and classified ads, and couldn't find one that looked good and was reasonably priced at the same time. I was up against a deadline though with the babe on the way, and it was looking like he may have a laundry basket as a dresser for a while.
But then, fortunately, a kind friend asked if we happened to need a dresser because they were getting rid of one their son wasn't going to use anymore. I said yes and thank you! It was white with red handles and had been pretty well loved, and I knew this wasn't going to quite work in the boys room "as is". This was only about a month or so before I was due, so I knew I'd better get going!
We had just moved in a few months before - the boys room was green with lots of dark wood trim and I'd found some really cute "jungle/safari" crib bedding for Lucas clearanced, so that decided the theme for their room. I started on it before thinking about pictures*, so you'll have to imagine it put together before..........
*Rookie blogger mistake. ;) Now my family just laughs while they watch me take pictures of everything, lol.
First I unscrewed the handles and put them aside. I then took the drawers out and sanded it all to rough up the surface a little. I just used a piece of sandpaper.
It was probably a little windier and chillier than it should be when you paint (beginning of March is a bit cold still in Michigan!), but I was a nesting mom on a mission! I did the drawers and handles on the back porch and the main part of the dresser in the front enclosed porch to give it a little more protected time to dry.
Here I had already painted one side of the handles, but you can see the red I started with. We had that can of Rustoleum metallic spray paint already, so I don't know the name of it offhand. It's a tan (little bit sparkly, little bit goldish) color. I thought it would definitely work better than the red in the boys room, and it did......but now with my new
obsession
affection for Oil Rubbed Bronze (ORB) spray paint I'm thinking they'll get an update. (you can see the ORB in action in my
knife block makeover
and more projects to come soon!)
There they are, painted and waiting to be reassembled. Now, I just realized that I didn't take a mid painting picture of the dresser itself (unless you count the glimpse you can see in the top picture), but it was pretty uneventful......just got out a brush and painted it. Since the colors in the room are greens, browns and blues, I used leftover blue paint that we used in our kitchen, bathrooms, and front stairway. Then waited impatiently for it to dry.........because it turned out like this!
Isn't it great??! I'm so happy with how it turned out!
Final Cost:
Dresser - Free
Leftover Blue Paint - Free
Leftover Spray Paint - Free
= FREE
It looks just perfect in their room and I was so happy to be able to fold up those teensy tiny clothes to tuck inside. It was done just in time too - within a week, my darling Lucas Daniel was born and perfected our family. =)
Happy birthday sweet boy!
*If you're looking at doing a painting project, check out Menards
today or tomorrow
for FREE gallons of paint (up to 5), 3 pc. Roller Kit, Smart caulk tool, 4" Pad Edger, and 2pk paint brushes (all FREE after rebate)! And get a
FREE Valspar Painting Project Kit
here!
Linking up to.........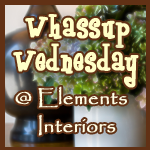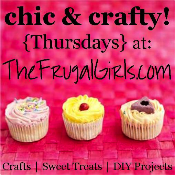 Thrifty Decor Chick's Before and After Party
(with apologies to Sarah for not being able to figure out how post the right button) ;)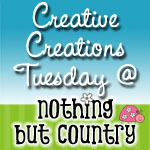 The Creative Crate

Decor Chick